The Climate Action Playbook
This free resource is our joint contribution to human survival. It is not to be seen as in competition with the many powerful approaches to emissions reduction that are being used around the world. Its purpose is to combine climate science, strategic communications and systemic change to a call to action and a practical guide on what to do in order to go from Co2 targets to Climate Leadership.
Read the full playbook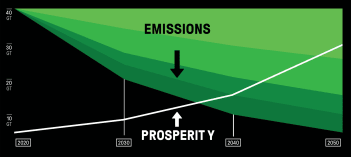 Opportunity
The climate is changing but we are not. Still, we know that the climate emergency will force every business to transform, just as the emergence of the internet and the digital economy did. So what will it take for companies to look beyond today's gain and invest in a fossil fuel-free future?
We need entrepreneurial change. All successful businesses are driven by strong leaders. How can we convince them that sustainability is the new paradigm for business and that we have to abandon old methods and look for new solutions? We wanted to take the opportunity to assist businesses in reducing their CO2 emissions, meeting the 1.5°C ambition of the Paris agreement.
Process
Together with The Foresight Group, we formulated what a business needs to do in order to become a climate leader. After the production of the text, we created design that makes each step engaging and tangible.
The production of the guide was aligned with the work of the 1.5°C Business Playbook, an initiative that takes on the ambition after our first steps, where we were one of the partners together with: the Exponential Roadmap Program, Ericsson, WWF, the International Chamber of Commerce, the World Business Council for Sustainable Development, the Potsdam Institute for Climate Research, the HAGA Initiative, IKEA, Telia, Scania, and KTH Royal Institute of Technology, amongst others.
Change
To create a net-zero emissions economy is an opportunity - reducing emissions goes hand in hand with prosperity for everybody, it drives innovation and creates potential for new business, enriching life as we know it. Our guide on how to become a climate leader assists business leaders and investors in taking the very first steps of this transformation.