Agents of Sustainability
In 2015, we created the communication language for the UN Sustainable Development Goals. Two years later, we translated the 169 targets—the driving forces of the agenda—into a comprehensive communication system. In reality, we turned sustainability into a periodic table.
Today, we are a growing consultancy. By combining our deep knowledge of sustainability, communication and design skills with business strategy and activation initiatives, we are accelerating the transformation to a sustainable future.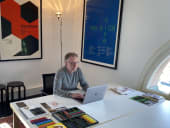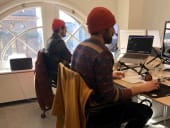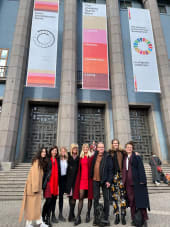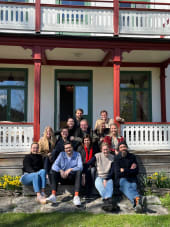 The TND Family
Our company has been around for 7 years and is constantly evolving with the growing sustainability demands from our clients and increased awareness within the business sector. By being a part of the team you will have the opportunity to work with people from various fields and industries bringing your own expertise to the table to truly transform and challenge the status quo.
We all want to make the world a better place and we all believe it can be done. You will get the chance to work with large corporations, small NGOs and everything in between, all focusing on bettering the way they operate and communicate.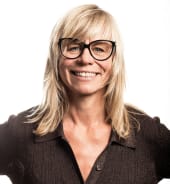 Louise König
CEO
Louise has over 20 years of experience in sustainable business development and communication. She has worked for several of the largest companies in Sweden, including IKEA, Coop, and most recently Ramboll Management Consulting, where she acted as the Head of Strategic Sustainability Consulting. Louise believes in the power of sustainable business development. When she is not working, she is in the forest, ocean, or on the dance floor with family and friends.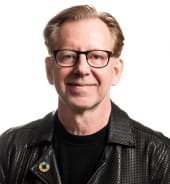 Jakob Trollbäck
Founder
His passion for complexity and powerful communication was driving the award-winning design system for the 17 Global Goals. He is driven by beauty + logic and will most likely talk to you about elegant equations. Driven by a conviction that the most important questions deserve the best communication, Jakob founded The New Division in 2017. He also has some impressive DJ skills.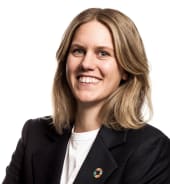 Hannah Boman
Co-founder & Head of Operations
Music lover and frequent concert goer Hannah started her career at Trollbäck+Co after completing her BA in Communication. A master multitasker and with TND from the very beginning, Hannah is our Co-founder and Head of Operations.
Amar Aljic
Graphic Designer
Amar Aljic is a tech enthusiast that loves the great outdoors as much as playing video games. He has studied graphic design in the Netherlands and has 10+ years of experience which he is now using to contribute for a more sustainable world. Amar works as a graphic designer and acts as an occasional office tech-support.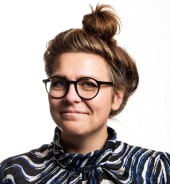 Anna Norrman
Sustainability Strategist
Anna combines creativity with an analytic mindset to strengthen strategies and make them actionable. With a background from an international textile company, she has worked with both the development and execution of sustainability strategies. Anna is also a music-enthusiast with a particular love for the water- she never skips an opportunity to take a dip in the ocean.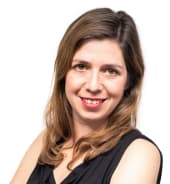 Christina Rüegg Grässli
Creative Director
Christina is an award-winning Creative Director and designer with over twenty-five years of experience in design. She was the lead designer on the communication system for The Global Goals. Christina is passionate about using design and communication to help create positive social and sustainable change. She is also a great singer and the only TND member based in Switzerland.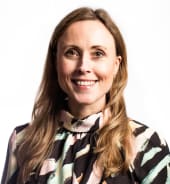 Caroline Nordvall
Communication Strategist
Caroline is a dreamer, doer and optimist at heart. With a vast background in business consulting, PR and journalism, she combines strategy and communication for solutions that enable sustainable business transformation. Caroline also has over 10 years of experience as a wellness professional and sees body- and soulwork as an integral part of the radical mindshift that society so urgently needs.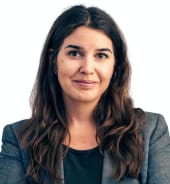 Therese Aziz
Head of Activation
Film buff and cooking enthusiast with high-level organizational skills. Therese has a comms and film degree together with over 10 years production experience, she heads up our Activation department.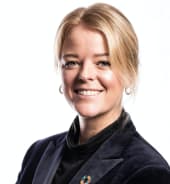 Malin Marklund
Project Manager
Malin has over 10 years of experience in the communications and advertising industry. She believes that communication is a vital tool for a sustainable transition making her a perfect match for The New Division. When she's not at work you'll find her on a cliff in the archipelago or skiing.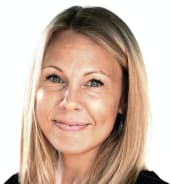 Siri Maassen
Communication and sustainability strategist
Siri is educated in environmental science with a focus on management as well as in PR/PA and strategic communication. She has 15 years of experience in communicating sustainability issues in the political system (national and municipal), civil society, academia and business.
Siri has good insight into and a large network in these industries and areas and can therefore contribute with the perspective of these different actors. She also has the ability to make complex issues accessible to create greater understanding between the various actors in the system and to facilitate and moderate conversations and workshops for consensus and progress in development projects.