Making Climate Ambitions Engaging
Many companies are embarking on ambitious carbon reduction journeys to better manage their climate impact. Their climate strategies are often connected to international frameworks such as SBTi (the Science Based Targets Initiative) or the Exponential Roadmap. The work is both needed and essential, but it can often become complex and quite difficult to communicate internally as well as externally. Still, broad engagement is essential for the strategies to progress, so clear communication becomes key for the implementation.
We support our clients by explaining the complex journey with an engaging narrative and illustrative visualizations.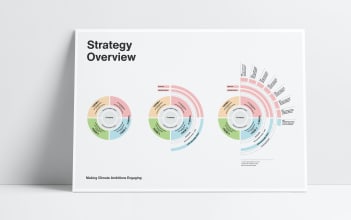 Opportunity
This case study is an example of how we collaborate with clients to create engaging climate narratives. The large global company [Global Brand] had updated its company-wide climate strategy to be better anchored in science, global standards, and sustainability frameworks. The client asked us to support them in communicating the strategy, making the complex framework easier to communicate in order to drive increased knowledge and engagement internally and externally.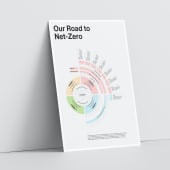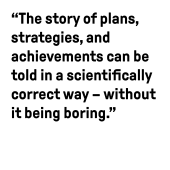 Process
Our Work began by analyzing and structuring the material provided by the client, which consisted of strategy documents, global standards such as the SBTi, and sustainability frameworks. From the start of the collaboration, we strived to make the narrative less "schoolbook", without losing the strategic value and connection to science. The Global Brand also wanted to communicate the transition from the previous strategy to the new one, explaining why the goals and roadmaps were updated. We formulated different options for narratives and messages with guidance for terminology and language.
The final version of the narrative explains the journey that the Global Brand has been on, from the previous climate strategy to its updated one. The narrative is supported by visualizations and infographics, making important elements simple to understand. The visualizations also provide the client with the possibility to connect other prioritized sustainability areas (such as biodiversity, water, and social sustainability) to the same visual logic. Together, this builds a holistic story that is easy to communicate to a variety of stakeholder groups.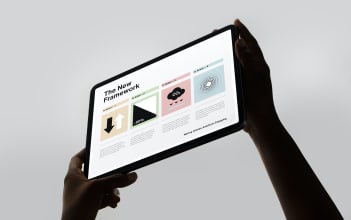 Change
Our collaboration with the Global Brand is an example of how a company can activate its climate strategy with engaging stories that lead to ambitious actions. A good narrative enables companies to be transparent about their actions and advocate for change. The Global Brand's new narrative is now being used as a foundation for its updated climate website. It has become the baseline for all communication for different stakeholders, such as customers, financial institutes, and partners.