Jakob Trollbäck
Jakob Trollbäck is a Swedish designer and Creative Director. His career began in his hometown Stockholm before he moved to New York in 1991 to work for RGA. Seven years later, he founded the award-winning creative studio Trollbäck + Company in New York. After creating the visual communication system for the UN Global Goals in 2015, he founded the sustainability agency The New Division in Stockholm.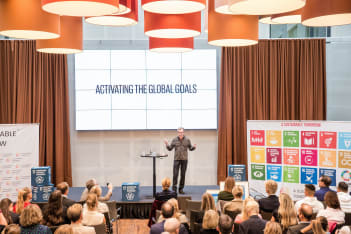 Trollbäck + Company, New York
Jakob began his artistic career as a DJ in Stockholm in the 1980s. He discovered his interest in design when he created posters and flyers for his music club, Nocturne Avantgarde Club. Since then, music and design have gone hand in hand in Jakob's work.
In 1991, he moved to New York to work at creative studio RGA, where he soon became a Creative Director. In 1999 he wanted to try his wings and started the award-winning design studio Trollbäck + Company. The studio specializes in motion and graphics for TV, film, and advertising in combination with branding and strategy. The client list includes media outlets such as BBC, ESPN, NBC, and CBS as well as major global brands such as Apple, Google, Nike, and Volvo.
The company motto, discard everything that means nothing, helped the studio focus on core values and made the group a powerhouse for branding and strategy.
During the years, Trollbäck + Company has received dozens of creative industry awards, including Primetime Emmy Awards, AICP, Art Directors Club, PromaxBDA, British D&AD, Communication Arts Design Annual, The One Show, and Type Directors Club.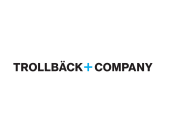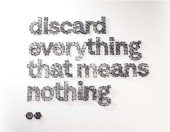 The SDGs and the IDGs
Through a project for the BBC, Jakob got to know film director Richard Curtis. In the fall of 2014, Curtis asked Jakob to help him with a United Nations project he was involved with through his charity organization Project Everyone. The UN project, called the Sustainable Development Goals, was a historic global agreement with the potential to end poverty, fight inequality and stop climate change.
Richard realized that for it to succeed, the Goals needed to become popular. Jakob started by giving the agenda a more compelling name. The somewhat cumbersome 'Sustainable Development Goals' became simply 'The Global Goals'.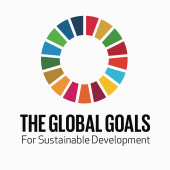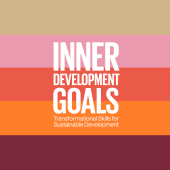 Designer Christina Rüegg Grässli, a longtime collaborator of Jakob, started to design icons for the goals. Every goal received its own colorful symbol with bold typography and bright colors to express the determination and optimism of the effort. The team also designed an official logo for the initiative – a bright circle made up of the colors of the 17 individual goals to remind us that they all have to be solved together.
The result became more than an award-winning visual communication system, it is today the universal language for sustainability. Signed off by all 193 member nations, it is a hopeful language of change that can inspire everyone, everywhere to act.
See Trollbäck + Company's work with the Global Goals
Jakob is also one of the main architects behind the initiative "Inner Development Goals", which was founded as a response to the slow progress on reaching the Sustainable Development Goals. The Inner Development Goals is a framework of transformative skills for sustainable development that will help accelerate the work to reach the Global Goals. The Inner Development Goals initiative has been recommended as an important framework to achieve SDGs in the European Parliament resolution of 23 June 2022 on the implementation and delivery of the Sustainable Development Goals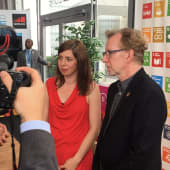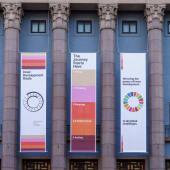 The New Division, Stockholm
Driven by a conviction that the most important questions deserve the best communication, Jakob founded The New Division in 2017, a strategic communication agency focusing solely on projects that make the world better. Based in Stockholm, The New Division is working with companies, organizations, governments, and academia to make complex and important questions easy to understand and act on.
Since emergence, The New Division has worked with clients such as Skanska, Ericsson, Skolverket, Business Sweden, Swedbank, Boverket, ICC, UNDP and SPP.
In 2018, The New Division completed the visual communication system for the Global Goals by creating logos and short names for the 169 targets. The complete system was officially launched at the UN in July 2018 and made available on GlobalGoals.org among other channels.

See our work with the Global Goals Targets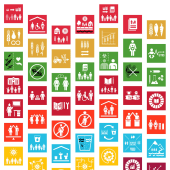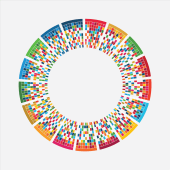 Talks, Lectures & Articles
Over the years, Jakob has served on several boards of directors, including at the Art Directors Club and PromaxBDA, as an adviser for the World Science Festival, and as a trustee at the Brooklyn Academy of Music. He is a frequent lecturer at universities and events focusing on sustainability, communication, design, inner development, and leadership.

If you want to get inspired with new ideas on how to accelerate your sustainability work, reach out to us and book a lecture with our amazing Jakob Trollbäck.
"Jakob wowed our community with his work and philosophy on how designers can not just affect appearance – but design systems and influence global impact. Many of his quotes have been quoted back to us by members as light bulb moments."
"Jakob's lecture gave very thought-provoking and interesting insights into communication on sustainable development and the Agenda 2030 goals. The participants have given very good reviews - they were spellbound."
"It was therefore a great honor to have Jakob as one of the panelists on the important closing day of the conference. It was even more interesting to learn about the IDGs and the 23 skills. What an inspiration!"
"It is fascinating to see how a single line of lived experience can become such a guiding force in helping other creatives make a difference in the world. We're very grateful for Jakob's willingness to open up about his personal journey and his professional wisdom."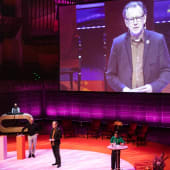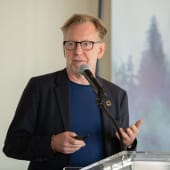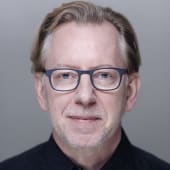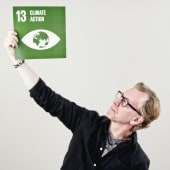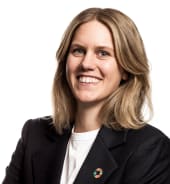 Let's talk presentations!