Data-driven storytelling – A Way to Enable Change and Drive Impact
SustainLab and The New Division are joining forces to enhance collective intelligence and support businesses in their sustainability journeys to drive positive impact. This partnership derives from our shared experiences working as sustainability managers and our conviction that a combination of data, action, and storytelling is the recipe for businesses to enable change.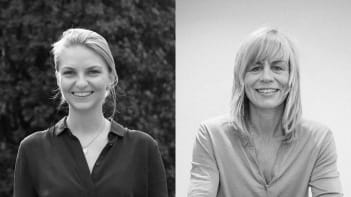 We share a background as sustainability managers within the food industry, and have been in large organizations where sustainability was the dark corner of the organizational chart – mostly seen as an 'add-on' to the core business. But we have also experienced a shift where sustainability has moved up on the organizational agenda and into the management rooms. In spite of this development, we know that sustainability is still not fully integrated into many organizations and business models.
Sustainability has often been treated as a PR stunt – more money on marketing and publicity to look good, less on actually making the changes that matter. Greenwashing in a nutshell. On the contrary, some businesses are doing the right thing, but are too afraid to talk about it, thus missing out on advocating for change. This has been very frustrating and backward – thankfully we see that a growing number of companies are starting to take sustainability more seriously, with a stronger understanding of how sustainability will strengthen their businesses, and a stronger intention of doing things the right way.
As a part of this shift, we have met numerous people within different businesses wanting to drive sustainable change, but we can see that many of them face the challenge of getting the data, actions and storytelling right, and to reach the end consumer, whether it is B2B or B2C. There is an urge to contribute to positive change, but it is often followed by a struggle with managing both the soft and the hard aspects of sustainability.
Fascinated by data, change, innovation, and communication, we both believe that these aspects need to be combined in order to accelerate change and enhance impact. We see a potential in combining our companies' skills in data, innovation, storytelling, and strong communication. Together we will work to accelerate change for Better Business - Better Planet.
We see three key solutions to achieving change:
1. Accessing the correct Data, at a frequent basis and with high quality to enable better decision making
2. Taking Actions based on knowledge and stakeholder dialogues, driven by the right reasons and supported by strong leadership 
3. Storytelling to strengthen communication and the organizational culture
Combining the skills of The New Division and SustainLab, we can enable organizations to overcome the obstacles in their way. By providing businesses with the support and tools to access insightful data, create powerful actions, and communicate through inspiring storytelling, we can strengthen brands and shape organizational cultures where sustainability is everyone's business.
Together, SustainLab and The New Division will:
1. Enable decision-makers to achieve impactful sustainability results with the help of data and automation. We support businesses with the data, tools, and structure, and providing the right data to the right function, at the right time. As the sustainability agenda and science are continuously evolving, the need for accessible, correct, timely and relevant data is growing. We can offer a higher level of automated data to accelerate organizational and business development.
2. Support organizations to take the right actions and sharpen strategies based on knowledge. In some organizations, data is available but strategies for taking action are not in place, and knowledge is not distributed. Sustainability is not a "one woman's job", and from experience we know that ownership and knowledge about sustainability need to be built into all relevant parts of an organization in order for impactful action to take place. We will support companies in sharpening their strategies, defining what kind of knowledge the organization should aim to develop, and deciding which actions should be prioritized. Overall, strengthening a leadership that will empower the organization's ability to make smart decisions to drive business development.
3. Making sustainability easy to understand through storytelling. We are experts at making complexity easy to understand and creating stories that will make people feel. Strong and coherent storytelling, backed up by data and actions, will generate engagement for sustainability both internally and externally.  This builds an internal organization that allows sustainability to be fully integrated into the culture, whilst developing external credibility that will strengthen the brand.
Businesses need to understand that if true impact shall be created, then data, actions and storytelling needs to be aligned. If isolated, either of the three simply cannot be strong enough without support from the others. That's what we call data-driven storytelling to enable change.

Louise König, CEO at The New Divisions
Maria Svantemark, CEO and founder of SustainLab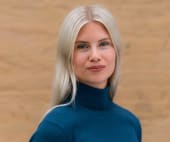 We'd love to tell you more!
Sara Lindström
Sustainability Strategist
sara@tnd.world
+46 70 225 62 24