The EU Taxonomy
TND Insights is a theme-based content series in which we highlight relevant topics that we – and probably others – find complex. First out was biodiversity. Now we are introducing the next topic – The EU taxonomy. Our ambition is to write about this complex issue, what it is and why it is important.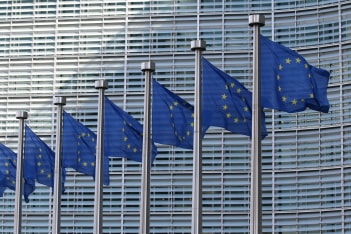 What is it and why is it important?
The EU taxonomy is a classification system that labels investments as 'green' investments to provide clarity and certainty for investors and decision-makers. In 2019, the European Commission presented the European Green Deal to set out the trajectory for all member countries to adopt, aiming at achieving a climate-neutral Europe by 2050. The EU taxonomy goes hand in hand with the European Green Deal, aiming at directing capital toward sustainable initiatives and tackling greenwashing.
The goal for the European Union is to eliminate its net emissions by 2050, requiring huge investments in which private funding plays a crucial role. The ambition of the EU taxonomy is to make sustainable activities more visible and attractive to investors by providing a common language for sustainable economic activities.

The EU taxonomy regulation entered into force in 2020 and covers companies with more than 500 employees. The EU Taxonomy points out three groups of primary taxonomy users: Financial market participants, offering financial products and services within the EU, including occupational pension providers. Large companies are required to provide a non-financial statement, according to the Non-Financial Reporting Directive, the EU and Member States, when establishing public measures, standards, or labels for green financial products or green bonds.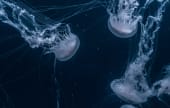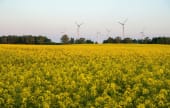 Environmental Objectives
Today, the Taxonomy Regulation establishes six goals:
Climate change mitigation
Climate change adaptation
The sustainable use and protection of water and marine resources
The transition to a circular economy
Pollution prevention and control
The protection and restoration of biodiversity and ecosystems
The EU Taxonomy is well on its way to becoming the global reference for sustainable economic activities. Supporters praise the taxonomy as an ambitious rule book for sustainable investment allocating the funding necessary for a sustainable future. Opponents criticize the EU taxonomy for including natural gas and nuclear power. Some argue that it is counterproductive, even enabling greenwashing and as a result puts the European Union's environmental objectives at risk.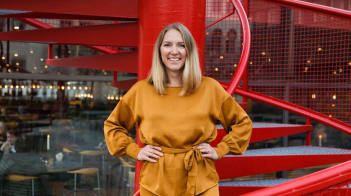 Insights form an expert
Grasping the EU taxonomy is difficult, but Johanna Lundgren Gestlöf – Head of Sustainability at SPP – is an expert on the topic. We have had the opportunity to talk to Johanna and get her reflections on the potential, impact, and challenges of the EU taxonomy. 
How does SPP look upon the potential of the EU taxonomy?
The taxonomy is an important step in clarifying sustainability, increasing comparability and transparency, and making more data available in the field. The quality of, and the amount of available sustainability data, is a major obstacle to the desired level of analysis and follow-up of sustainable investments. By clarifying what is scientifically sustainable in different industries, it will be easier for investors to identify what is green investments.
At the same time, it is important to remember that taxonomy is only one tool of many when it comes to sustainability, and does not show the entire picture. If we are to succeed in mitigating climate change we will also need to get more transparency on which investments that harm the climate. In addition, all steps towards reduced emissions or reduced impact on the environment are positive, regardless of whether the company becomes so good that it meets the thresholds for "green" according to the taxonomy or not.
What impact does it have on the SPP business? And in the end, the pension capital for laypeople?
It will be one of many tools we will use to identify more sustainable investments and to steer more capital towards companies that contribute with a solution to the sustainability challenges. More and improved data means that we can become even smarter when investing and when developing investment strategies. We can also use the data to visualize to our customers the share of already "green" investments in their portfolios. However, we will have to wait a few years before the companies we invest in have high-quality taxonomy data reported, and reported data will remain an issue outside of the EU and in many sectors also after that. Furthermore, sustainability is so much more than the taxonomy, so there will not be any major changes for us or our customers in the near future.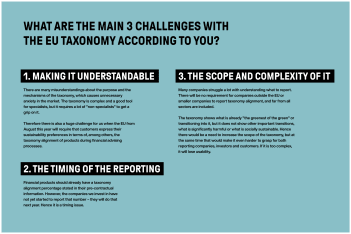 What are your reflections on communication in relation to the EU taxonomy? Both for companies and laypeople. How do we make it easy to understand?
Communication will be one of the main challenges and when hearing about the taxonomy in media and the public debate it is often misunderstood. For example, one can often hear that everything that is not in the taxonomy is "unsustainable" but that is not true – we do not get any information about the non-green parts. But I do not think we should make it too simplified either, as people will then easily believe that it is an "almighty" measure of environmental sustainability which it is not. Hence, it is most important that investors understand it as the purpose of it is to steer investments in a green direction.
However, I think the most correct way to describe the taxonomy is as a lexicon, where you can find definitions of how to produce or perform your company's activities in a way that contributes to environmental sustainability, such as mitigating climate change. It does not say anything about what is not in the lexicon, but you can be certain that everything you find in it is based on science and expert views.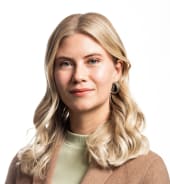 Let's talk about sustainability strategy