Lectures / Workshops
We often and gladly give lectures, both in external settings and for work- or management groups. Our main topics revolve around sustainable business development, communication, and, not least, the emergence of the Global Goals. Of course, we can also customize lectures and workshops.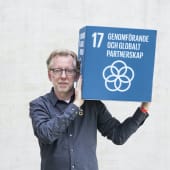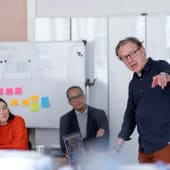 Jakob Trollbäck
Jakob Trollbäck is the founder of The New Division, the creative leader behind the visual language of the Global Goals. Jakob is a popular speaker and talks about creativity, communication for change, the SDGs and IDGs.
Do you want to advance the dialogue on sustainability and communication internally in your organization?
"Jakob wowed our community with his work and philosophy on how designers can not just affect appearance – but design systems and influence global impact. Many of his quotes have been quoted back to us by members as light bulb moments. We're very grateful for Jakob's willingness to open up about his personal journey and his professional wisdom."
"Jakob's lecture gave very thought-provoking and interesting insights into communication on sustainable development and the Agenda 2030 goals. The participants have given very good reviews - they were spellbound."
"It was therefore a great honor to have Jakob Trollbäck as one of the panelists on the important closing day of the conference. It was even more interesting to learn about the IDGs and the 23 skills, which is extremely interesting and very important for students and researchers to learn more about. What an inspiration!"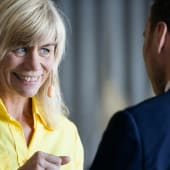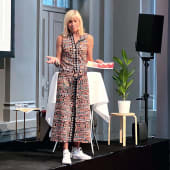 Louise König
Louise König is the CEO of The New Division and has extensive experience from sustainability work at some of Sweden's largest corporations. Louise is often found in contexts about sustainable business development as a lecturer, moderator, panelist and facilitator.
Through in-depth lectures or workshops for Board members or management, Louise can help you analyze your current state of business, identify the road ahead and strategically shape steps forward.
To create impact within your organization and in the world,
Book Louise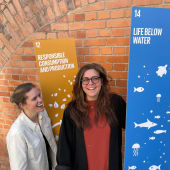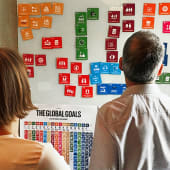 Hannah Boman & Anna Norrman
Hannah Boman, Operations Manager at TND, and Anna Norrman, Sustainability Strategist, often give joint workshops and lectures on sustainable business development and the practical application of the SDGs. These are best described as a crash course into the world of sustainability, aiming to inspire and help leaders and teams enforce and enhance their sustainability work, and how to create and communicate impact. Participants are provided with concrete tools to map out their next step.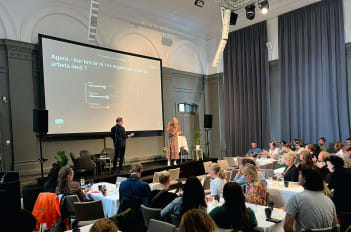 Jakob & Louise
How do you use the SDGs today and how can The Inner Development goals accelerate your impact? Jakob and Louise adapt the program to your needs for you to get the best tools to identify your next steps towards increased poisitive action and impact.
The Inner Development Goals provide a comprehensive framework for personal and organizational growth, allowing you to make a greater impact towards achieving the SDGs by 2030. With a focus on inner development and well-being, this program empowers individuals to overcome obstacles and start developing the skills and mindset needed to make a real difference in the world.
To set the agenda, book Jakob and Louise